SUNDAY WORSHIP TIMES
8:30 am Contemporary Service (The Well)
9:45 am Bible Study and Sunday School
10:30 am Traditional Service
Welcome to St. John's Lutheran Church and School on Silas Creek Parkway in Winston-Salem!
As a welcoming and loving congregation, our hearts are open to all in search of a celebration of His love for all of us.
As a church, we are committed to our Lord and Savior Jesus Christ and to His Word revealed to us in the Bible. We are following His command to make disciples of all nations beginning with the community in which He has placed us. One of the ways we do that is through our grade school that has been a ministry of ours since 1951.
The mission of St. John's Lutheran Church in Winston-Salem is "to help one more person get to heaven by pointing them to Jesus Christ." Our primary goal as a church is to connect people to Jesus Christ and to help them to stay connected to Him throughout their entire lives, so together, we can share in His joy.
If you do not already have a Church Home, St. John's may be the place you've been looking for.
St. John's is affiliated with The Lutheran Church-Missouri Synod. "Synod" means to "walk together." As a Synod, we "walk together" in terms of our doctrine and confession of faith. The Chief Doctrine professes that salvation is based solely on the life, death, and resurrection of Jesus Christ.
SUNDAY WORSHIP TIMES
Contemporary Service (The Well)
Communion observed weekly.
Traditional Service
Communion observed weekly.
The Traditional Worship service is more formal, featuring hymns and traditional liturgical elements.
The Contemporary Worship experience is casual in nature. Worship elements are projected on a screen, and music is led by a praise band and singers who lead the worshipers during the singing portions of the service. This service style can be meaningful to those who are not accustomed to the more formal Lutheran service.
Children's Sunday School:
9:45 am – ages 3 through high school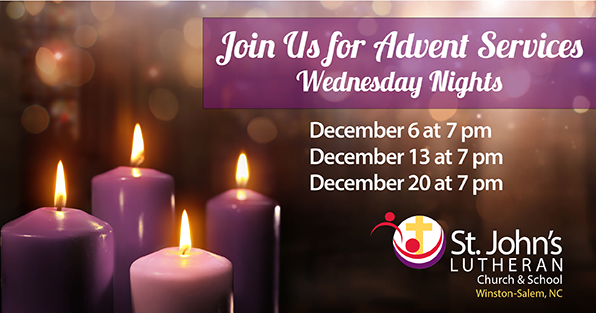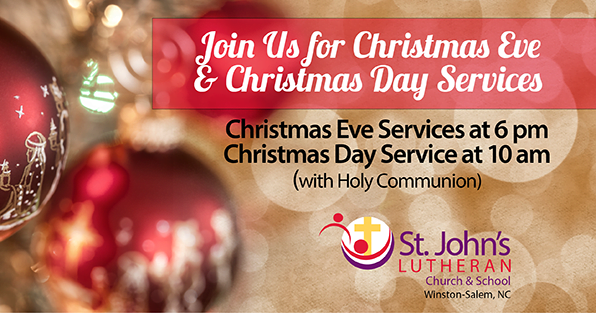 Everyone is Welcome to Any Service!
COME AS YOU ARE!
God is concerned about your heart, not your clothes.
ON-SITE PARKING
INTERESTED IN ST. JOHN'S LUTHERAN SCHOOL?  Click here.

ST. JOHN'S MISSION IS TO HELP ONE MORE PERSON GET TO HEAVEN
BY POINTING THEM TO JESUS CHRIST.